Help lead a class.
Purchase a DVD. The DVDs are full screen versions of 40L's free online phonics lessons and spelling lessons.
Donate Online. 40L is a 501 (c) (3) nonprofit organization run entirely by volunteers. Your donations help keep the online phonics and spelling lessons free and help 40L provide its phonics and spelling DVDs to people in difficult circumstances.
Mail a Donation. You can mail donations to: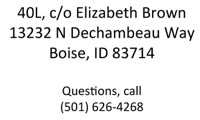 Florida Residents: 40L is registered with the Florida Department of Agriculture and Comsumer services under registraton number CH35759. A COPY OF THE OFFICIAL REGISTRATION AND FINANCIAL INFORMATION MAY BE OBTAINED FROM THE DIVISION OF CONSUMER SERVICES BY CALLING TOLL-FREE WITHIN THE STATE. REGISTRATION DOES NOT IMPLY ENDORSEMENT, APPROVAL, OR RECOMMENDATION BY THE STATE.